Mountain Gardener Newsletter SEPTEMBER 2019
EVENTS
September 7, 2019 | 10 a.m. | The Sowing Circle Presents:
Hands-On Composting Workshop

September 11, 2019 | 9–11 a.m. | Demo Day at the Learning Garden
Harvest Time
September 19, 2019 | 10–12 p.m. | Gardening in the Mountains
Pollinator Gardens
September 28, 2019 | 10–12 p.m. | Saturday Seminar
Can You Identify the Common Invasive Plants of WNC?
---
September Garden Chores
Ornamentals
Now is NOT the time to fertilize perennials and woody plants. Late-season nitrogen can reduce cold hardiness and force growth that can be damaged by hard frosts.

This is a good time to cut flowers for drying. Good candidates for air-drying include celosia, yarrow, statice, globe amaranth, strawflowers, goldenrod and grasses.

Leaving some of the few remaining seed heads of coneflower, sunflower and black eyed susan can be good for the birds to enjoy in the months ahead.

Move houseplants indoors before temperatures drop below 45 F. Check for signs of insects and treat. Rinse off foliage, remove dead leaves and cut back long stems.

Now is time to divide peonies that have not flowered well. Leave several "eyes" on each division and be sure to replant them with the eyes no more than 2 inches below the soil surface. Keep them watered this fall.

Check evergreens for bagworms. Removing them now prevents re-infestation next spring.

Pull spent summer annuals and replace them with pansies or ornamental kale or cabbage.
Fruits
To reduce the reoccurrence of fruit rot in peaches and grapes next year remove all plant debris including mummified fruit left hanging on the plant and lying on the ground.

Remove weeds and fertilize in strawberry beds where plants are forming next spring's flower buds. Also water if September rains are lacking.

Prune blackberries and raspberries and remove the old fruit-bearing canes from this year. Also thin new canes to leave only 4-8 canes per square yard.
Vegetables
Remove spent vegetable plants as soon as possible to reduce carry-over of insect and disease problems. Consider keeping a separate compost pile for diseased plants and do not use that compost in the vegetable garden. .

Plant fall vegetables by mid-month. Sow lettuce seeds every couple of weeks for a continual harvest. Cilantro and dill can also be sown during cooler weather.

Insects can be a problem with all of the cabbage family crops. Use row cover or a weekly application of B.t. bacteria spray to prevent cabbageworms. Use insecticidal soap for aphids if needed.

Consider planting a cover crop on vegetable beds to build organic matter for next year's garden. Mark your calendar to mow and turn under in February or March before the next growing season.
---
NOW IS THE TIME TO ORDER GARLIC!
Plant in October – November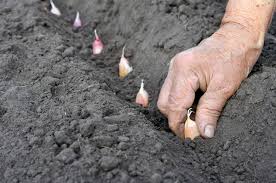 ---
Stop Watering Your Amaryllis
If you have an amaryllis in a pot that you want to bloom again.. NOW is the time to stop watering and let it go dormant!
Amaryllis need a period of rest before it will flower and grow again.
As you withhold water, the leaves will yellow and die back. When this begins to happen, move the plant to a cool (50 to 55 degrees) dark location for
8 to 10 weeks.
Once the dormancy period has been met, the growth cycle can start again. At this time repot the bulb with fresh soil and move the pot to a warm sunny location. Begin watering again but withhold fertilize until growth begins.
---
Harvesting and Drying Gourds
Turks Turbin, Martin house and Luffa are a few names among the different groups of gourds that are grown for both ornamental and functional purposes.
Cucurbita gourds are often decorative and have names that describe their shape like Egg, Crown of Thorns or Turks Turbin. These can be injured by frost and freezing temperatures and are best harvested when mature but before cold weather arrives. These gourds should be kept cool and dry to cure which can take weeks and even months.
Lagenaria gourds are the functional class and have names like Dipper, Bottle, Birdhouse. These can tolerate light frost, can remain in the garden longer and need to handled carefully to avoid damage to the skin.
Luffa gourds are luffa gourds and can be harvested whenever they turn brown.
When harvesting gourds, cut them from the vine leaving a small section of the stem attached to the gourd.
---
Season For Seeding Lawns
August 15 – September 15 is the window for renovating or over seeding the lawn.
While lawns may be the best choice for areas that get heavy foot traffic, they can take valuable resources to maintain and impact the environment.
If you have areas of lawn in the landscape that are less utilized consider tolerating more weeds, converting more to garden space or planting ground covers or other bee friendly plants.
To help the remaining areas of lawn to thrive, reduce weed invasions and other pest problems follow the basic steps for cool season lawn care here in the mountains.
---
Time to Plant Cover Crops
We are in a good window for planting a winter cover or green manure crop. These crops are important soil management tools and help to add organic matter, improve fertility and soil structure, reduce erosion, suppress winter weeds and loosen compacted soils.
GREAT FOR NEW GARDEN SPACES!
Austrian winter peas, Barley, Crimson Clover, Rye, Ryegrass, Triticale, Hairy Vetch and Wheat work well alone or in combination.
---
Evaluate the Summer Vegetable Garden NOW!
This is THE BEST time to make notes about your vegetable garden!
Ask yourself the following questions to help get you started.
What variety vegetable did you grow?
Did you actually eat the vegetable and like the flavor?
Were you able to manage the plant? on a trellis? with stakes?
Did you give the plant enough space to grow?
What insects and diseases were most prominent?
Did you learn to I.D. the insects and diseases and how to manage them?
Did the soil drain well? What type of problems came from too much rain?
Was the garden overwhelmed by weeds? what kind of mulch did you use?
What else would help you grow a better, more beautiful, more abundant garden next year?
---
Be Firewise!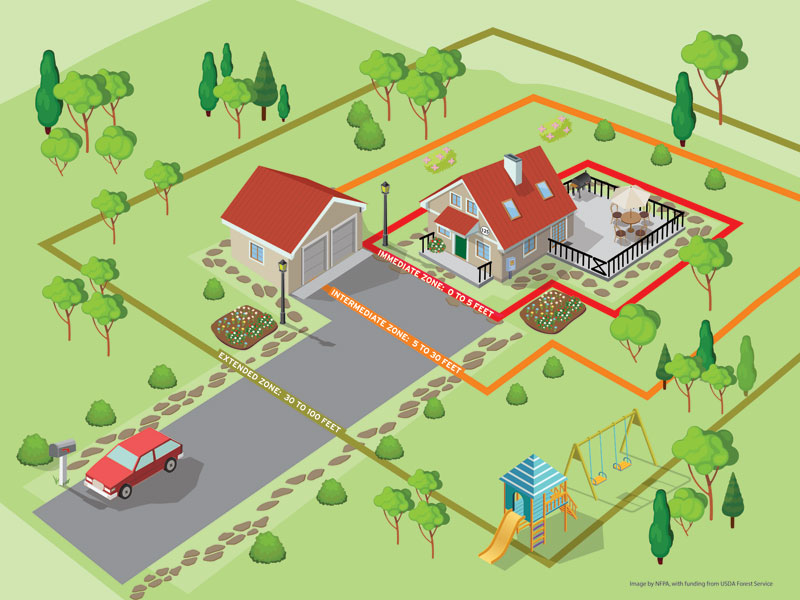 Making plans now to prevent or reduce the damage caused by wildland fires is ALWAYS a good idea for the many who live in a home or community surrounded by forests.
Read a recent
blog post
by the 
Extension Master Gardener
 volunteers in Buncombe County to learn more.