Mountain Gardener Newsletter APRIL 2019
EVENTS
---
April Garden Chores
LAWNS
DO NOT fertilize cool-season lawns (fescue and bluegrass). Nitrogen applied this late is an invitation for brown patch fungus disease in June.
Maintain mowing height for fescue lawns at 3 to 3 ½ inches.
This is a good time to hit broadleaf weeds, such as clover and dandelions, with a spot spray of a selective herbicide that is labeled for these plants.
ORNAMENTALS
Apply a fresh layer of mulch to landscape beds before summer weeds germinate. Pull the winter weeds first. Only add enough mulch so that the total depth of mulch is not more than 4 inches.
Try planting those spent Easter lilies in the garden. Keep them indoors until May, and then plant them about 5 inches deep in a sunny location. They probably will not bloom again this year, but should be back next summer.
Let the foliage of the spring bulbs die most of the way down before cutting the leaves. The bulb needs to absorb that energy for next spring.
As soon as spring-blooming shrubs have finished blooming, it's time to prune if they have gotten too large.
Do not plant frost-tender (summer annual) flowers before May unless you will be able to cover them in case of frost.
Don't let winter annuals like henbit and chickweed go to seed. Hand pulling is effective where broadleaf herbicides are nonselective and can harm landscape plants.
FRUIT
Pull weeds in the strawberry bed and put straw mulch between the rows.
Weed the garlic and asparagus beds to reduce undesirable weeds.
Fertilize fruit trees, blueberries, grape wines, and brambles.
Finish pruning brambles, grape vines, and fruit trees.
VEGETABLES
When the soil is not too wet to work, till or turn over the soil for May planting; incorporate lime and phosphate according to soil test recommendations.
When planning the vegetable garden, remember to rotate the location of plant families from year to year if possible. This is particularly important with tomatoes and legumes.
Set out transplants for cool-season crops such as cabbage, broccoli, and lettuce.
Make sure they are hardened off before planting into the garden.
Still time to plant potatoes as well as seeds for lettuce, beets, and leafy greens.
Still time to start transplants of warm-season vegetables.
Begin "hardening off" warm-season transplants a week or two before planting in early to mid-May.
Have row cover fabric handy if frost-sensitive crops are planted before May.
---
When is it Safe to Start Planting?
It is hard to resist the urge to plant during beautiful warm days of spring. Remember however that most of our warm season summer annual flowers and vegetables are frost sensitive. The 'average' last frost date for most of Buncombe County is April 25. But it can vary by a couple of weeks depending on where you live on the mountain or valley. 'Average' stills means there is a 50% chance of frost.
The 'safe planting date' for our area is when there is only a 10% chance of frost. For most of the county the safe date does not arrive until the second week in May.
---
Is it too Late to Start Composting?
Absolutely not! We typically think of beginning a compost bin in the Fall when leaves and garden leavings are abundant. Spring can also be a good time as preparations are being made for the growing season. For more information regarding bin selection, how to get started, and troubleshooting problems visit the NC State Extension
Composting website
.
ALSO, Visit the Extension Master Gardener volunteer Compost Demonstration site at Jesse Israel & Son's Garden Center at the WNC Farmer's Market.
April 6 and 20 10 a.m.–1 p.m.
---
Are Your Houseplants Hanging on by a Thread?
By now indoor tropical houseplants are showing signs of a long dark winter season. Help them hang on and take time now to provide a little TLC.
If the soil is dry take the container outside on a warm spring day or into a sink or tub and run clear lukewarm water over the soil until it is thoroughly saturated and runs through the drainage holes. This removes built-up fertilizer salts.
If you haven't fertilized in a while, apply a 1/2 strength liquid fertilizer to the moistened soil. Wait until early May to move plants outside.
---
Using Wildflowers in the Garden
This time of year with the spring wildflowers at their peak it's natural to want to bring them into your own garden. Easy? Not always. As with any plant, having the right conditions for the plant to thrive is important – wild or cultivated. Choosing nursery propagated plants is VERY important and helps conserve natural populations.
---
What Soil Amendment Should I Use?
Adding organic matter to clay soil creates openings in the soil for air and water to move. It also improves the soil structure which allows plant roots to grow. Composted manures, leaves and plant material (cover crops) are some good examples of amendments that provide organic matter.
Sand is NOT recommended as a good amendment for clay soil since clay and sand particles when mixed together create adobe or a concrete-like soil. Peat moss is another amendment that is NOT recommended given its water-holding capacity, creating wet sticky soils. If you are dealing with heavy clay, rocky or poorly drained raised beds would be a great alternative.
What About Feather Meal or Blood Meal?
In addition to organic matter, some soil amendments also provide nutrients. Often our office gets calls from individuals who have purchased feather meal or blood meal for their garden without realizing both provide nitrogen.
---
What Should I do with Old Tires?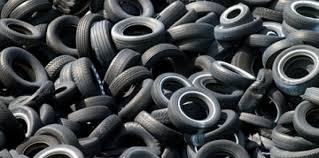 This may not apply to you but if you have old tires lying around and are tempted to grow vegetables in them PLEASE STOP. Not only are there better options for raised bed gardening tires have a multitude of toxic substances that are released as the tires break down.
Scroll to the bottom to read more on minimizing soil contaminants.
Want to recycle old tires? Buncombe County Landfill accepts tires at 85 Panther Branch Road, Alexander NC. Residents may recycle 10 tires without rims at no charge. After that, tires may be recycled at $2 per tire. All tires on rims (even the first 10) are $2 per tire. For more information call 250-5460.
---
A Gardening Guide for Our Mountains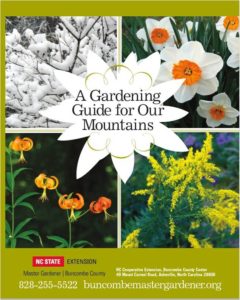 Living in Western North Carolina means that there is always something to do in the garden, from preparing soil and pruning to fertilizing and transplanting. But when and how?
You'll find the answers in A Gardening Guide for Our Mountains. Created by Buncombe County Extension Master Gardener℠ (BCEMG) volunteers, the guide provides a complete month-by-month description of what to do (and not to do), along with tips on invasive species, mulching, composting, and creating bird- and pollinator-friendly habitats.
This quick reference makes the perfect gift for yourself or for the gardeners in your life, whether they are old hands, new to gardening, or new to gardening in the mountains.
A Gardening Guide for Our Mountains helps get the season started right and keeps gardens growing all year long.
Plus, you'll have the satisfaction of knowing that funds raised through this publication go to support the many educational and outreach programs provided by BCEMG volunteers.
Price
$10. Cash or check only. Please make checks payable to Buncombe County Extension Master Gardener. Shipping is available for an additional $2.
How to Order:
Garden guides can be purchased and picked up at our office at 49 Mount Carmel Road, Asheville, NC 28806. Or call 828-255-5522 to order by phone and request shipping.
Please note: Garden Guides that require shipping will not ship until payment of $12 is received. Please send all payments to N.C. Cooperative Extension, Buncombe County Center, 49 Mount Carmel Road, Asheville, NC 28806, ATTN: Buncombe County Master Gardener.