The Gardener's Dirt April 2015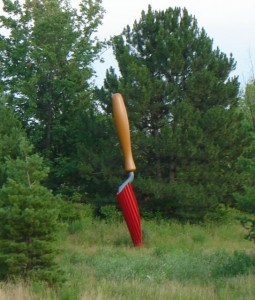 Information you can really dig into.
This newsletter offers timely information for your outdoor living spaces. Addressing the most common questions ranging from container gardening, tree pruning, wildlife management, to fire and control, insect identification and lawn establishment and maintenance.
Click here for a printable version of this newsletter.
Shawn Banks
Extension Agent
Agriculture – Consumer Horticulture
---
FEATURE ARTICLE
Flower Hill, A Mountain-like Micro-Climate in… Johnston County?
by Tina Stricklen and Margy Pearl
If you've ever thought about traveling to see the spring display of our famous native Catawba rhododendrons in the mountains, you need go no further than the Johnston-Nash county line! Flower Hill Nature Preserve in Middlesex is a completely unique microenvironment that survived the retreat of the last ice age, leaving a cool, sheltering environment friendly to plants more commonly found 200 miles west in the southern Appalachians.
In the Coastal Plain and Piedmont, beautiful evergreen Catawba rhododendrons are found only on steep, sharp-draining, north facing slopes and bluffs, such as those at Flower Hill that enable the plant to flourish far from its typical habitat. This disjunctive mountain community of plants also includes native spring wildflowers such as galax, Catesby's trillium, Solomon's seal, jack-in-the-pulpit and trout lily.
Also found in the preserve is the Southeast's largest tree frog species named for the male's distinctive call – the nocturnal "barking" tree frog. In the swamp surrounding the creek at the base of the bluffs, wood ducks and muskrats are often observed.
The preserve's uplands contain many chestnut oak, a species not normally found in the eastern Piedmont. The eastern part of the slope is covered with a mixed hardwood forest of stately American beech, with lovely flowering dogwood and American holly as understory plants.
The Flower Hill area has a unique history. Known mainly to locals who would hold social events near the bluffs, a noted North Carolina naturalist, B.W. Wells, visited Flower Hill in 1937 at the invitation of Bill Ragsdale, the county forest warden . He called this geographic anomaly a "freak of nature" and was quoted by the Smithfield Herald. The phrase appeared later in the Mobile Tour Guide and suddenly Flower Hill was a national attraction! In the late 1930s, Ragsdale had leased Flower Hill, built trails and promoted the site. The publicity attracted more than 12,000 visitors over the course of three weekends in May of 1937. Over 4,700 people visited the bluffs on a single day alone, May 4th,1937!
Over the years, the impact of tourists caused damage to root systems resulting in the destruction of 150 yards of native rhododendrons in one area. Interest in the site declined until 1988, when a successful grassroots effort arose to revive and protect Flower Hill after  extensive tourism damage had occurred. Of the 75 acres that make up this natural heritage site, the Triangle Land Conservancy (TLC) purchased 10 acres along and atop Moccasin Creek in 1989. Flower Hill opened to the public in 1993.
When you visit Flower Hill, plan to take a hike! Stop at the informational kiosk at the front of the small parking lot off Flower Hill Road. A beautiful dedication plaque can be found near the trailhead. Signs along the trail help visitors identify the plants as they progress through the forest. A half mile, well-marked loop trail overlooking Moccasin Creek briefly passes across the bluff's more Piedmont-like plateau before traversing atop a 40'-80' cliff face covered with the easternmost stand of native rhododendrons in NC. It's an impressive collection, as dense as ones found in western NC's Pisgah and Nantahala national forests. Much as it did over 75 years ago, Flower Hill offers quick escape to a unique, mountain-like setting!
During the first two weekends in May, the preserve is heavily visited. Traditionally, as part of TLC's mission to preserve Flower Hill both ecologically and culturally, TLC offers an annual hike called the Rhodo Ramble the weekend before Mother's Day. This year the hike is Saturday, May 2, from 10am to noon. The hike is weather dependent and participants will be notified by email, as needed. Register at: http://triangleland.org/news-and-events/event/rhodo-ramble
Whether you take the TLC tour when the Catawba rhododendrons are at their peak, or hike the trail later this month to see the wildflowers bloom, plan to visit this natural wonder and local treasure where you can see a mountain landscape without ever leaving Johnston County!
Flower Hill Nature Preserve
8954 Flower Hill Road
Middlesex, NC 27557
http://www.triangleland.org/what-we-do/nature-preserves/flower-hill-nature-preserve
Download the Flower Hill Guide at: http://www.triangleland.org/assets/images/uploads/Flower_Hill_guide.pdf
For further information about the Triangle Land Conservancy and their events/outings:  http://www.triangleland.org/.
Check out this website for Flower Hill and other wonderful North Carolina gardens in our county and around the state: http://gardening.ces.ncsu.edu/public-gardens/.
References:
http://www.triangleland.org/assets/images/uploads/Flower_Hill_guide.pdf
http://cvs.bio.unc.edu/pubs/4thApproximationGuideFinalMarch2012.pdf
---
FEATURE PLANT
Catawba, Purple & Mountain Rosebay Rhododendron
Rhododendron catawbiense
by Margy Pearl
Have you ever seen a slope of these famous native Appalachian Mountain rosebays in bloom? You don't have to go all the way to the Blue Ridge for the unforgettable sight! These iconic evergreen beauties can be found in the Piedmont under tall trees at Hanging Rock and Pilot Mountain State Parks, the NC Botanical Garden, Swift Creek Bluffs in Cary, as well as our own Flower Hill Nature Preserve. Although they grow best on sunny, cooler mountainsides, Catawba rhododendrons can actually be grown in the warmer Piedmont under tall trees, on east or north facing shaded slopes with excellent drainage.
Size: 6-12 ft. height and width.
Flower:  Blooming in mid-spring, dense lilac-purple, pale lavender-pink, or white terminal clusters of flowers are marked with green to yellow-brown in the throat.
Foliage:  Thick, glossy, dark green foliage may become yellow-green in the winter.
Site: In zones 4-8, this shrub must have moist, well-drained soil to thrive. Morning sun to high bright shade is required.
Varieties:  Some of the most showy varieties available are a result of hybridization with the less hardy Himalayan species.
Where to Purchase Rhododendron catawbiense:
http://www.carolinanativenursery.com/catalogs/wholesale-native-plant-pricelist/
References:
http://plants.ces.ncsu.edu/plants/all/rhododendron-catawbiense/
https://www.ces.ncsu.edu/fletcher/staff/rbir/rhododendronnative.html
http://www.trianglegardener.com/main/native-plants-2/the-triangles-natural-gardens/
http://www.wildflower.org/plants/result.php?id_plant=RHCA8
---
QUICK TIP!
Native Rhododendrons (Azaleas)
by Deborah M. Crandall
When planting native rhododendrons, always consider a location in your landscape where they get wind protection. Slopes and buildings provide good barriers. Avoid planting at corners of buildings where wind tends to be rougher.
For example, a site sloping to the north or east is usually best because it is protected from drying south and west winds. Here they are less risk to quick temperature changes in late fall or early spring. For more information on how to care for healthy rhododendrons visit: http://www2.ca.uky.edu/agcollege/plantpathology/ext_files/PPFShtml/PPFS-OR-W-7.pdf
---
UPCOMING EVENTS
Extension Gardener Classes will continue meeting every Thursday this month. Time: 6pm – 9pm. $5 per class you attend. Please preregister by calling  919-989-5380, and payment is required with registration.
April 2 –  Fruits and Berries
April 9 – What's in the Turf
April 16 – Landscape design
April 23 – Maintaining the landscape
April 30 – Insects in the Garden
Extension Master Gardener Volunteer clinics:
At these clinics the Extension Master Gardener Volunteers will be at these locations to answer gardening questions, identify weeds, turf, insects or diseases that you may be having problems with in your yard. Feel free to bring a sample for them to use in identifying the issue. You may also pick up or drop off soil test kits for soil sampling. This is often the first step in diagnosing a plant problem. These clinics are free to the public unless otherwise indicated so stop by and ask us your gardening questions.
April 4-Clayton Farm and Community Market Will be selling grafted tomatoes at this location. 9 – 1
April 4  – Tobacco Farm Life Museum (Kenly)- 10-3
April 11 – Hudson's Hardware in Clayton 10-2
April 11 –  Southern Ideal Home Show – We will be at the Southern Ideal Home Show to answer questions and talk with people about the roll of Extension Master Gardener Volunteers in Extension. Tickets to the show are $9.00 at the door or $7.00 if you purchase tickets in advance  at Walgreens. For more information about the show visit the show site.
May 16 –  Extension Master Gardener Volunteer spring plant sale. More details to come.
---
GOOD OR BAD?
Snakes
by Shawn Banks
Have you ever heard the phrase, "The only good snake is a dead snake"? This is usually spoken by those who don't know very much about snakes in general. There are many snakes living in our area that are quite beneficial. I ask the question, would you rather be overrun by mice and rats, or have a few snakes in the yard?
Here in Johnston County we generally have only two kinds of venomous snakes that we might run into, the Copperhead (Agkistrodon contortrix) and the Cottonmouth (Agkistrodon piscivorus). There is an off chance in the southern and eastern parts of the county to run into a Timber Rattlesnake (Crotalus horridus), but those are very rare.
Some snakes that may be mistaken for these venomous snakes include the Eastern Hognose snake (Heterodon platirhinos) and Southern Hognose snake (Heterodon simus), both of which love to eat frogs and toads. Mud snake (Farancia erytrogramma) is another one that may be mistaken for a Cottonmouth because it lives near water and has dark coloring. Mud snakes eat lizards, frogs, toads, salamanders, and some other aquatic life.
Snakes that somewhat closely resemble the Copperhead include the Northern Water snake (Nerodia sipedon) and the Corn snake (Elaphe guttata), both of which have more red or orange in their coloring then the light brown Copperhead. The Water snake eats mostly amphibians like fish, while the Corn snake is a large consumer of mice and other rodents.
A couple of other snakes that are often mistaken for venomous snakes include the Smooth Earth snake (Virginia valeriae), Rough Earth snake (Virginia striatula) and the Brown snake (Storeria dekayi), all reaching a mature size of about 12 inches and eating mostly slugs, snails, and other insects in the garden. These three snakes spend most of their lives under rocks, logs or leaf litter. In all honesty, I would much rather find an Earth snake in my mulch pile consuming slugs than finding the slugs consuming my plants.
Next time you see a snake in the yard, don't just kill it. It may be a nonvenomous snake keeping mice from overrunning your house or the slugs from devouring your flowers. Many snakes are our friends. Even venomous snakes feed on rodents, insects and other snakes.
Reference:
For more pictures and information about snakes in NC visit Davidson Herpetology http://bio.davidson.edu/herpcons/herps_of_NC/snakes/snakes.html
---
INCREDIBLE EDIBLE
Bronze Fennel
Foeniculum vulgare
by Chris Alberti
A close relative of the thick-stemmed vegetable Florence Fennel (Foeniculum vulgare, var. dulce), bronze fennel is grown for its feathery, anise-flavored leaves and seeds. In the garden it looks much like dill and will reseed a bed if a few heads are left to mature. Be careful not to plant it near coriander, since neither plant does well with the other as a neighbor.
Fennel is one of our oldest cultivated plants and was much valued by the Romans. Roman warriors took fennel to keep in good health, while Roman ladies ate it to prevent obesity. Every part of the plant from the seed to the root is edible. It was one of the nine herbs held sacred by Anglo-Saxons for its power against evil. Charlemagne declared in 812 A.D. that fennel, with healing properties also to its credit, was essential in every imperial garden.
Grow fennel in full sun in well drained loam, avoiding clay. Grow it at the back of an herb border, or ornamentally in an herbaceous border. Sow in late spring to early summer; divide in autumn. Thin or transplant to 20 inches apart and do not grow near dill, as the seeds will cross-pollinate. To preserve it, dry the seeds, freeze the leaves or infuse in oil or vinegar.
Bronze fennel has a surprisingly diverse number of uses:
Add young stems to salads.
A friend of dieters, fresh fennel leaves as well as tea made from its leaves, curb the appetite.
The leaves of fennel blend well with fruit. Try a sprig of it in applesauce, or snip its leaves   into a salad of sliced, peeled oranges and red onions.
Fennel leaves mixed into melted butter make a delicious sauce for fish.
The seeds are a breath sweetener.
The fresh leaves, used in a bath, are cleansing and lightly astringent.
Almond Fennel Biscotti
By Rosalind Creasy April/May 1995
• 3 cups sliced blanched almonds, divided
• 4 teaspoons fennel seeds, divided
• 4 cups unbleached white flour
• 4 teaspoons baking powder
• 2 eggs
• 1 cup honey
• ½ cup apple juice
• 2 teaspoons vanilla
Preheat the oven to 350ºF.
In a food processor, whirl 2 cups almonds on high speed until pulverized. Add 2 teaspoons fennel seeds and whirl to a coarse powder. Add the flour and baking powder and mix well. (If you have no food processor, pulverize the almonds and fennel seeds in a blender or grinder, and mix with the flour by hand in a bowl.)
With a sharp knife, coarsely chop the remaining 1 cup almonds and 2 teaspoons fennel seeds. In a large bowl, whisk together the eggs, honey, apple juice, vanilla, chopped fennel seeds, and almonds. Add the flour mixture and stir with a wooden spoon until nearly blended. Knead by hand until completely blended.
Cut the dough in half and form into two loaves 10"x3"x1½". Set the loaves on a lightly oiled baking sheet. Bake on the highest rack in the oven for 30 minutes, or until just golden.
Remove the sheet from the oven and cut each loaf on the diagonal into ½ -inch-wide slices. Lay them on their side on the baking sheet. Lower the temperature to 250ºF and bake 30 minutes. Turn the slices over and bake them 30 minutes longer. Turn off the oven, open the door, and let the biscotti cool in the oven about 1 hour. If the biscotti slices are not crisp, bake another 30 minutes at 250ºF. Cool. Store in a sealed container.
References:
Photograph – Bronze Fennel, Foeniculum vulgare, by John and Anni Winings CCBY-NC-SA2.0
Fresh Herbs, Barbara Radcliffe Rogers, Gallery Books, 1990.
The Herb Bible, Peter McHoy and Pamela Westland, Quatro Inc., 1994.
The Complete Book of Herbs, Lesley Bremness, 1988 Dorling Kindersley Limited, London
http://www.motherearthliving.com/cooking-methods/fennel-almond-fennel-biscotti.aspx
---
APRIL GARDEN TASKS
LAWN CARE

Grass clippings are a great source of nitrogen. Practice grasscycling , a recycling practice where you leave the grass clippings on the lawn to return nutrients to the soil. This could reduce the amount of nitrogen needed in fertilizer for the year by 25%. Clippings may also be composted (they're a great nitrogen source), or sprinkled onto flowerbeds as long as they're not allowed to mat together.
Warm season lawn seed may be planted toward the end of the month. Call us for a copy of 'Carolina Lawns' which tells you exactly when and how much seed to plant.
TREES, SHRUBS & ORNAMENTALS
Renew mulch around trees, shrubs, and in garden beds. Make sure mulch does not touch the bark of trees or shrubs and extends to the drip line of young trees.
If rambunctious perennials have reproduced too freely, remove and pot the excess plants. Pass them along to friends and family. New gardeners will be thrilled to receive free plants. Dividing Perennials
Don't overfeed azaleas and camellias. These shallow-rooted plants are not heavy feeders, and can be damaged by over-fertilizing. Submit a soil sample to be tested (it's free) to determine if fertilizer is needed. Use a slow-release, balanced fertilizer immediately after blooming. Apply it around the drip line of the shrub, according to label directions.
Special fertilizers for 'acid-loving plants' are not necessary; our soils are sufficiently acid naturally.
Watch for black spot and powdery mildew on roses – common problems in our humid climate. Although these diseases make the foliage look bad, the plants generally do well anyway. Rose Diseases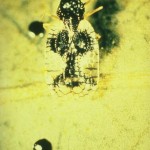 Watch for lace bugs, the most common pest on azaleas. Look for whitish, stippled leaves with shiny dark flecks on the undersides of the leaves. If found, treat with horticultural oil (an insecticide). Be sure the spray reaches all parts of the leaves and stems, including the undersides of leaves.
Annual flowers such as zinnas, moonflowers, cleome, gloriosa daisies and sunflowers can be seeded in mid April.
Let spring bulbs die down naturally. Remove flower heads after the petals fade, and allow the foliage to die down naturally. Do not fold, twist or braid foliage. Once the foliage falls over, it can be removed. Leafy companion plants can hide yellowing bulb foliage. Tender bulbs such as ranunculus and anemone can be dug and stored when their foliage begins to yellow. At the end of the month, plant summer bulbs like caladiums, lilies, gladioli, dahlias, and elephant ears.
Prepare new flower beds by loosening and amending the soil. All plants perform better when their roots can spread in loose, organic soil. Till the soil and incorporate organic matter, lime and fertilizer – according to soil test results (free kits available at this office) Plant perennials now so they can become established before hot weather sets in.
VEGETABLES & FRUITS
Check tender shoots of vegetables and emerging perennials for aphids. If found, spray off with water.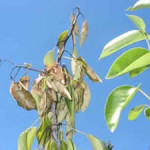 Watch out for and control fireblight  on apple, blackberries and pear trees (including ornamental varieties). Affected branches look like they've been burned with a blowtorch. Control this bacterial disease by pruning diseased limbs back to 1 foot beyond the diseased area. Be careful not to let infected foliage touch healthy foliage (yes, it's that contagious), and disinfect tools between cuts to avoid spreading the disease. Discard rather than compost the infected limbs.
Plant turnips before April 15. Plant pole beans, carrots, and winter squash after April 15.
Cucumbers, corn, pumpkins, snap beans, watermelon, and cantaloupe may be safely planted at the end of the month.
Thin cool weather crops that were seeded last month.
Pick off blossoms of strawberries planted this season. Let plants mature a year before they bear fruit.
Keep tomatoes well-watered to avoid blossom end rot.
HOUSEPLANTS
Divide overgrown house plants.
Gradually introduce houseplants to the out-of-doors for their summer "vacation." Give them partial shade at first; experiment to see which of them can handle sun. Even sun-lovers will need a few days in the shade, to get used to the intensity of sunlight, before going out onto a sunny patio.
---
If you have gardening questions you would like to have answered contact the Extension Master Gardener Volunteers by phone at (919) 989-5380 or by e-mail at jcemastergardener@gmail.com.
If you would like to subscribe to this monthly newsletter send an e-mail to shawn_banks@ncsu.edu and ask to be added to the electronic newsletter list.
---
Was the information on this page helpful?